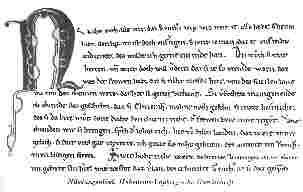 WEMSK17b:
Textual Criticism Addendum






---
WEMSK17b
As an addendum to "Textual Criticism," let me add the problem of
the unique manuscript, where people propose emendations even in the absence
of comparative materials:
1. Edmond Faral, "A propos de l'edition des textes anciens. Le cas
du manuscrit unique," Recueil de travaux offert a M. Clovis Brunel.
Societe de l'Ecole des Chartes, Memoires et documents, 12, pt. 1
(Paris, 1955), 409-421.
2. Franz H. Baeuml, "Some Aspects of Editing the Unique Manuscript: A
Criticism of Method," Orbis Litterarum 16 (1961), 27-33.
3. Dietrich Neuschaefer, "Moeglichkeiten einer Rueckgewinnung des
Urspruenglichen bei einfacher Textueberlieferung in einer
Sammelhandschrift, gezeigt am Anegenge," Probleme
altgermanistischer Editionen. Forschungsberichte 13 (Wiesbaden,
1968), 63-71.
4. Rudolf Hofmeister, "The Unique Manuscript in Mediaeval German
Literature," Seminar 12 (1976), 8-25. An excellent treatment.