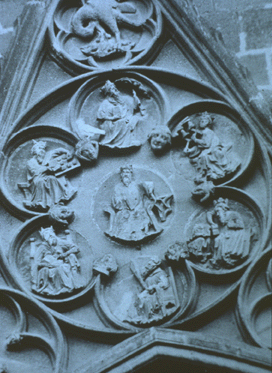 WEMSK13:Symbolism
---
WEMSK13
Symbolism
1. J. E. Cirlot, A Dictionary of Symbols, transl. Jack Sage (NY:
Philosophical Library, 1962). Just look at it; buy it if you can
get it cheap.
2. Bibliographie zur antiken Bildersprache, unter Leitung von
Viktor Poeschl, bearbeitet von Helga Gaertner und Waltraut Heyke.
Heidelberger Akademie der Wissenschaften (Heidelberg: Winter,
1964). Usually referred to as "The Poeschl". Your first port of
call; it is good to just look over its TOC, to get an idea of the
various concepts. Greek and Latin index.
3. Manfred Lurker, Bibliographie zur Symbolkunde (Baden-Baden:
Heitz, 1968). Various supplements and a Jahrbuch, 1968-, which
gives summaries. Hard to use, but occasionally very helpful.
4. Joseph Sauer, Symbolik des Kirchengebaeudes und seiner
Ausstattung in der Auffassung des Mittlelaters (Freiburg: Herder,
1924). On the church building. See also Durandus.
5. Dietrich Schmidtke, Geistliche Tierinterpretation in der
deutschsprachigen Literatur des Mittelalters (1100-1500) (Berlin:
Ernst-Reuter-Gesellschaft, 1968). A great source, both for
interpretations and bibliography, in spite of its limitations.
6. Hans Martin von Erffa, Ikonologie der Genesis. Die christlichen
Bildthemen aus dem alten Testament und ihre Quellen. Vol. 1
(Berlin: Deutscher Kunstverlag, 1989). Excellent for what it
covers, and it covers more than it might be thought to.
7. Hennig Brinkmann, Mittelalterliche Hermeneutik (Tuebingen:
Niemeyer, 1980). Good exposition of allegoresis. Has special
sections on: Numbers, Stones, Animals, Plants and Trees, Buildings
& Churches, etc.
8. Symbolon. Jahrbuch fuer Symbolforschung. 1960-.
9. Peter Jehn, Toposforschung. Eine Dokumentation. Respublica
literaria 10 (Frankfurt: Athenaeum, 1972). Good bibliography.
10. Max Baeumer, ed. Toposforschung. Darmstadt: Wissenschaftliche
Buchgesellschaft, 1976). A Wege der Forschung volume; good
selection of articles, bib.
11. Frederic de Portal, Des couleurs symboliques dans l'antiquite,
new ed. (Paris, 1938.
12. Wilhelm Wackernagel, "Die Farben- und Blumensprache des
Mittelaters," Kleinere Schriften, 1 (Leipzig, 1872), 143-240. Well
worth xeroxing off.
13. For bibliography and discussion: Sigmund Skard, The Use of
Color in Literature. A Survey of Research. Proceedings of the
American Philosophical Society 90.1 (1946), 163-249. Old, but
still worth looking at.
14. A good quick survey by a master: Friedrich Ohly, "Vom geistigen
Sinn des Wortes im Mittelalter," Zeitschrift fuer deutsches
Altertum 89 (1958), 1-23. Reprinted in his collected works.
15. Things you may want to look at:
a. William York Tindall, The Literary Symbol (Bloomington: Indiana
UP, 1955).
b. Rollo May, Symbolism in Religion and Literature (NY, 1960).
c. Elisabeth Frenzel: Stoff-, Motiv-und Symbolforschung. Sammlung
Metzler 28, 4th ed. (Stuttgart: Metzler, 1978).