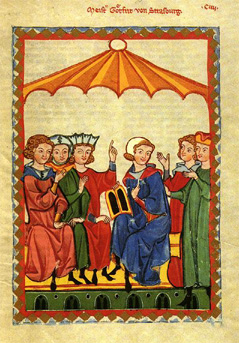 WEMSK5: Rhetoric
---
Also See Outlines of Literary Rhetoric
---
[If you are interested in where rhetoric fitted in in the MA, and that sort of stuff, you still ought to read: Louis John Paetow, The Arts Course at Medieval Universities with Special Reference to Grammar and Rhetoric (Urbana-Champaign: UofIllinois Press, 1910)]
1. For bibliography: James J. Murphy, Medieval Rhetoric: A Select Bibliography, 2d ed. (Toronto: UTorontoP, 1989). You can bring this up to date through the MLA bibliography and L'annee philologique.
2. There are a number of gatherings of medieval rhetorics:
a. Karl Halm, ed., Rhetores latini minores (Leipzig: Teubner, 1863). Also repr., e.g. Dubuque, IA: W. C. Brown, 1964. Collects most of the
well-known rhetoricians.
b. Edmond Faral, ed. Les arts poetiques du XIIe et du XIIIe siecle. Bibliotheque de l'Ecole des Hautes Etudes. Sciences historiques et philologiques
238 (Paris: Champion, 1924).
Contains the following:
1. ptie. Les divers arts poetiques.
Leurs auteurs, leur histoire:
Matthieu de Vendome.
Geoffroi de Vinsauf.
Gervais de Melkley.
Evrard l'Allemand.
Jean de Garlande.
Opuscules divers.
Compositions relatives aux figures de rhetorique
2. ptie. La doctrine:
De la disposition.
De l'amplification et de l'abbreviation.
L'ornement du style. Les sources de la doctrine.
3. ptie. Les textes:
Ekkehard IV, De lege dictamen ornandi.
Matthieu de Vendome, Ars versificatoria.
Geoffroi de Vinsauf,
Poetria nova.
Documentum de modo et arte dictandi et versificandi.
De coloribus rhetoricis.
Gervais de Melkley, Ars versificaria (analyse).
Pyrame et Thisbe
Evrard l'Allemand, Laborintus.
Jean de Garlande, Poetria (analyse).

c. Ludwig, Ritter von Roeckinger, Briefsteller und Formelbuecher des eilften bis vierzehnten Jahrhunderts, 2 vol. (Repr. NY: Burt Franklin, 1961;
original 1863).
Contains the following:
Alberich von Monte-Cassino
Hugo von Bologna
Ars dictandi aus Orleans
Buoncompagno von Florenz
Guido Faba
Saechsisches Formelwerk
Ludolf von Hildesheim
Konrad von Mure
Iohannes Anglicus
Dominicus Dominici aus Viseu
Iohann von Bologna
Formelbuch aus Baumgartenberg
Bernold von Kaisersheim
Formeln für Rechtsgeschäfte
Johannes Bondi von Aquileja
Meister Simon
Ordo judiciarius
Verzeichniss der Formelanfänge.
3. Many of these are available in translation; see WEMSK on translations:
a. Joseph M. Miller, Michael H. Prosser and Thomas W. Benson, Eds., Readings in Medieval Rhetoric. (Bloomington: Indiana University Press,
1973). Contains 36 texts, mostly in excerpts.
b. James J. Murphy, ed. Three Medieval Rhetorical Arts (Berkely: UCalPress, 1971).
Contains the following:
Anonymous of Bologna
Geoffrey of Vinsauf, The New Poetics
Robert of Basevorn
4. Discussions/histories of medieval rhetoric abound:
a. Richard McKeon, "Rhetoric in the Middle Ages," Speculum 17 (1942), 1-32. A golden oldie and a quick read. Reprinted a number of times.
b. Charles Sears Baldwin, Medieval Rhetoric and Poetics (to 1400) (NY: Macmillan, 1928). Another golden oldie; worth reading.
c. James J. Murphy, Rhetoric in the Middle Ages (Berkeley: UCalP, 1974) Contains a very useful appendix: "Gigures of Diction and Thought from
Rhetorica ad Herennium, Book IV."
d. James J. Murphy, ed., Medieval Eloquence (Berkeley: UCalP, 1978). A collection of writings on "Rhetoric in Germany", "Rhetoric in
England," and the like.
e. Hennig Brinkmann, Mittelalterliche Hermeneutik (Tuebingen: Niemeyer, 1980). Actually on interpretation (see later in WEMSK), but good for literary
rhetoric.
5. For learning rhetoric, I recommend:
Heinrich Lausberg, Elemente der literarischen Rhetorik, 4th ed (Munich: Hueber, 1971). I prefer the first edition (1949), if you can get it; I cannot understand why he changed the format.
6. For looking up terms:
a. Leonid Arbusow, Colores rhetorici, 2d ed. by Helmut Peter (Goettingen: Vandenhoeck & Ruprecht, 1963). Worth looking at for the list of topoi,
with their usual names: puer senex, ubi sunt, coaevorum virtus, etc.
b. Joseph T. Shipley, Ed., Dictionary of World Literature; Criticism, Forms, Technique, rev. ed. (Totowa, NJ: Littlefield, Adams, 1968). A very
handy edition of the 1943 book by Philosophical Library. Contains articles, mostly signed, by over 250 scholars. Certainly trustworthy. Still available in
used bookstores. This is my first port of call.
c. The absolute best, but packed full and hard to use:
Heinrich Lausberg, Handbuch der literarischen Rhetorik, 2 vols. (Munich: Hueber, 1960)
It covers Greek and Latin origins, with a Greek and Latin index; being done by Lausberg, it leans a little towards the Romance, but who thinks that is
bad. Available (1998) also in an English translation; long available in a Spanish translation. Not very good to look up a term, unless you want to know
all about it.
d. Another of my favorites is: Sister Miriam Joseph, Rhetoric in Shakespeare's Time (NY: Harcourt, Brace and World, 1962). Avoid the paperback
version; it does not contain the discussion of terms.
e. Don't forget the internet (from the archives):
A Glossary of Rhetorical Terms with Examples
Literary Resources on the Net
[Choose "General" then (at the very end of the list) the link to "Resources for Writers and Writing Instructors" for links to a variety of online literary handbooks, glossaries, etc.]
7. The text most used for rhetoric in the Middle Ages was
Pseudo- Cicero's Rhetorica ad Herennium.
This is available with an English translation by Harry Caplan in Loeb Classics, no. 403. It is also available in a recent French edition:
Rhetorique a Herennius, texte etabli et traduit par Guy Achard. Collection des Universites de France (Paris: Les Belles Lettres, 1989).
It contains a new edition, a French translation, introduction and notes. It also contains a bibliography. I prefer Caplan, perhaps because he was a dear friend, but he knew his medieval rhetoric. We will meet him again when we talk about letter writing. If you cannot find an English translation of some obscure rhetoric, contact the Cornell University Library. Harry had his students translate for theses and dissertations such people as Fortunatianus and Bede. BTW, Loeb also has other works on rhetoric, e.g. Aristotle and Cicero; they have an online bibliography.
8. Rhetorical terms and the like were also treated in Donatus' Barbarismus, the 2nd part of his Grammar. I have an edition and translation of this on the net somewhere. Go to Labyrinth. There are also vernacular treatments of this, e.g. Olafr Hvitaskald's Old Norse Ma/lskrudhsfraedhi `rhetoric' (I kid you not), ed. and
translated by Lucy G. Collings as a Cornell University MA Thesis (this one not directed by Harry Caplan).