Encyclopedia | Library | Reference | Teaching | General | Links | About ORB | HOME
---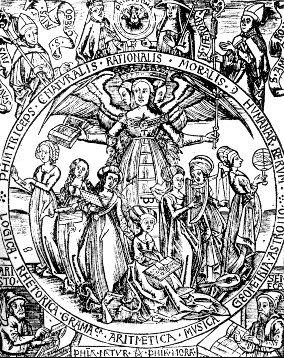 WEMSK9:The Seven Liberal Arts
---
WEMSK9

The Seven Liberal Arts
This is the shortest of the WEMSKs. We have already covered the
trivium, with WEMSKs on grammar, rhetoric and logic, and there are
others, e.g. Medieval Education, which also deal with the seven
arts.
1. Your first port of call, just a quick read-through, ought to be:
Paul Abelson, The Seven Liberal Arts, A Study in Medieval Culture
(NY: Columbia University, 1906). Reprinted a number of times. Not
bad to keep around for looking at now and again. My copy is from
Univeristy Microfilms, Ann Arbor, MI.
2. A good collection of articles is: Artes liberales, ed. Josef
Koch. Studien und Texte zur Geistesgeschichte des Mittelalters 5
(Leiden: Brill, 1959). Also reprinted, 1976.
3. Another good collection is: The Seven Liberal Arts in the Middle
Ages, ed. David L. Wagner (Bloomington: Indiana UP, 1983).
4. A good jumping off point for the study of the seven liberal arts
is, naturally, Martianus Capella:
a. Martianus Capella, ed. Adolfus Dick, addenda Jean Preaux.
Bibliotheca Teubneriana (Stuttgart: Teubner, 1969). The
Bibliotheca Teubneriana is now available on CD-ROM.
b. Martianus Capella and the Seven Liberal Arts, William Harris
Stahl with E. L. Burge. 2 vols. Records of Civilization Series (NY:
Columbia UP, 1971-77). Vol. 1: "The Quaddrivium of Martianus
Capella. Latin Traditions in the Mathematical Sciences, 50 B.C.-
A.D. 1250," by W. H. Stahl. "A Study of the Allegory and the Verbal
Disciplines," by Richard Johnson with E. L. Burge. Vol. 2, also
available in paperback, contains the translation.
c. There are many medieval `commentaries' on Martianus, e. g.
Notker, but the best and the best edited is: Remigii
Autissiodorensis Commentum in Martianum Capellani, ed. Cora E.
Lutz, 2 vols. (Leiden: Brill, 1962-65).
5. For the iconography of the seven liberal arts, see Herrad of
Landsperg's famous picture from her Hortus Deliciarum, Plate XI,
now available in a reasonably priced reprint: Herrad of Landsberg,
Hortus Deliciarum, Commentayr and Notes by A. Straub and G. Keller,
ed. and translated by Aristide D. Caratzas (New Rochelle, NY:
Caratzas Brothers, 1977). See the section on Iconography.



---
Encyclopedia | Library | Reference | Teaching | General | Links | About ORB | HOME
---